The daily new threats on the net request from your virus protection real masterly achievements while scanning, detecting and blocking malware.

With the cloud scanning, we move your PC security to the Avira Protection Cloud and free your system's resources for work, web, communication, and games. Your system protection is therefore on the "highest level" with fast scans and real-time updated virus information.

Be sure to check out this helpful infographic to visualize how it works.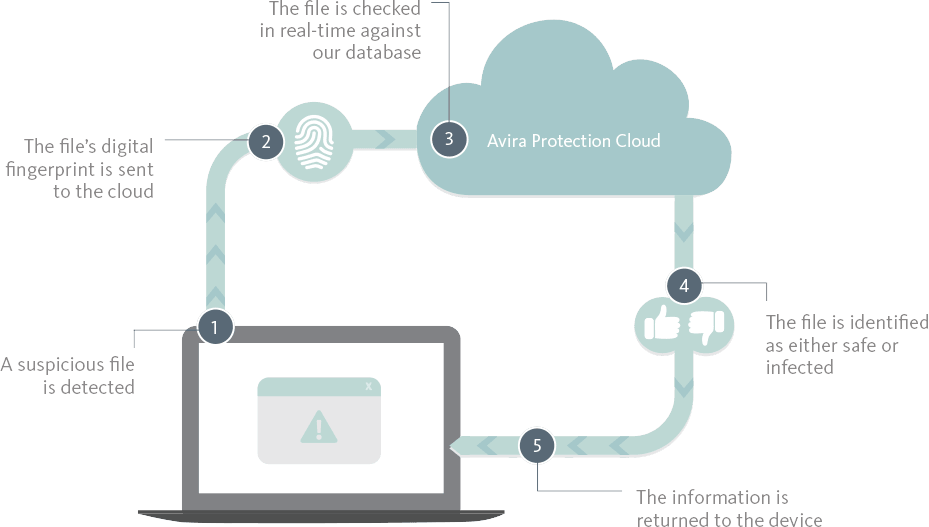 The file exchange between the user's PC and the Protection Cloud is always encrypted and data is only used for malware analysis. Sharing this data with third parties is prohibited.
More information about the Avira Protection Cloud.
Note
Once the Avira Antivirus is installed, the Protection Cloud is activated by default.
If the Protection Cloud is disabled (for unknown reasons ), you can re-enable the option via the Avira Control Center.
Enable Protection Cloud
Click on the Avira icon in the taskbar.
Locate the "Antivirus" and click Open.
Click the Settings icon in the lower left corner of the Avira user interface.
In the left menu, click General → Advanced protection.
"Enable Protection Cloud" checkbox.
Confirm the change with OK.
At the end of each cloud scan, there is a report that includes all information about scanned and uploaded files. The cloud scanner can be customized so that the user must confirm each upload and can deselect data that shouldn't be uploaded.