In some cases you may find that important services such as the Microsoft Base Filtering Engine are not working correctly or are not even present. That could be one reason why Mail and Web protection are deactivated.

The instructions below will help you add or repair the missing services so Mail and Web protection work correctly again.
Your computer will restart twice automatically.
Note
If you are using a utility program to clean potentially unwanted files (like CCleaner), the script may not work correctly. Therefore, please deactivate the corresponding option(s) which delete(s) temporary files.
Solution
The following file will make it easy to add or repair the missing services. Please follow the instructions below:
1. Download the file bfe-fw-fix.zip on your Desktop (the file is attached at the end of the article).

2. Right-click the downloaded file.

3. Select Extract to bfe-fw-fix or Extract All (depending on the software).

4. Enter the password avira and click OK.
A new folder called "bfe-fw-fix" will be created on your Desktop.

5. Open the folder "bfe-fw-fix" and double-click the file bfe-fw-fix.exe.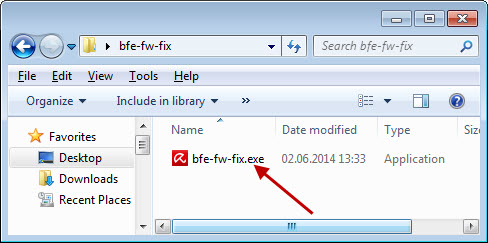 6. Confirm the User Account Control request with Yes.

7. Follow the instructions on the screen.
Note
Two automatic restarts are required.
Confirm each prompt with OK.