If you already have an email address and password for a website stored, and you want to set a different password for a subdomain website of the same domain, follow these instructions.
Add password
1. Browse to the subdomain website on which you want to create the new password.

2. Avira Password Manager automatically fills in the login data from the existing domain website.


Note
Do NOT click on Login.

3. Set a new password (The e-mail address can be kept).

4. Click Log in.
Avira Password Manager prompts if the password should be updated?


Note
Since this is not a password update of the former domain website, but the new password of the subdomain website, no update may be performed.

5. Click the drop-down menu and select Add password.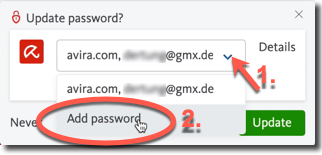 6. Enter a distinct name for the new subdomain website.

7. Insert the e-mail address you have used upon login.

8. Click Add.