Avira Prime is a cross-platform bundle of Avira products that cover different devices. This can include computers and mobile devices used by your spouse or your kids.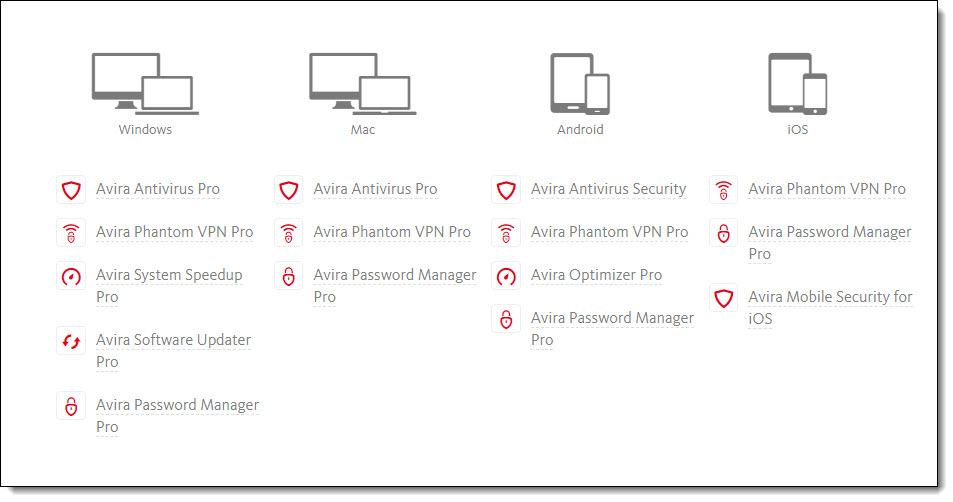 The belonging Avira account shows all devices and services status, allows you to add or remove services at will, and offers an android remote tracking tool to find a misplaced, lost or stolen smartphone.
View System Requirements
Operating Systems:
Microsoft Windows 7 Service Pack 1 or higher with the newest updates, hotfixes, and service packs installed
Mac

OS 10.15 (Catalina) and later

Android

5 and later*

iOS

11 and later
* This applies to smartphones and tablets, not TVs.
RAM
Disk space:
Minimum 2 GB of free disk space (additional space for temporary and quarantine files needed)
CPU Type:
Intel Pentium 4 / AMD Athlon 64 Processor or faster (with support for the SSE2 instructions set)
Browser:
Additional requirements
To install, you'll need administrator rights, an internet connection, and a web browser. For automatic antivirus updates and optimal malware detection, you'll need an internet connection.
For further information visit our homepage.
If you need any guidance through the purchase, installation and configuration process, please watch the following videos:
In this article you will find instructions how to install the apps on different operating systems.